Narrowing your options when you're in the market for a new medical office space can be tricky. Perhaps you've seen several spaces that you like and that appear to meet your needs, which has made it challenging to determine which environment will best support your business. This is where a test fit comes in, helping you determine whether an interior will suit your operational needs.
A test fit is a tool to help you focus on the spaces that will best accommodate your business, and you can have one made to show if a prospective interior can host everything you need. If your company uses 10 workstations and one executive office, for example, it will show you whether those things can fit comfortably into the allotted space. It's a way of "testing" an office space before committing to it.
This guide will cover everything you need to know about medical office test fit plans, including why you might need one before signing on the dotted line for your new workspace.
The Difference Between a Test Fit Plan and a Floor Plan
You're likely to see both a test fit plan and a floor plan when leasing a new medical office space. There are some key differences between the two, including that:
A test fit plan is a basic representation of how your necessities might fit in the potential space.
It's meant to show whether or not everything will fit rather than detail exactly how things should be set up to ensure optimal workflow.
A floor plan, on the other hand, typically shows a lot more detail and should outline workflow, furniture layout, equipment placement, intended atmosphere, medical office fit-outs, and other factors.
Floor plans are usually created by architects or space planners who take into account aesthetics and atmosphere as well as circulation patterns.
The building's architect usually creates test fits. You'll meet with the architect to discuss your business operations and space requirements. The architect will then draw up the plan to determine whether the space will meet your needs.
Benefits of a Test Fit Plan
Developers, brokers, architects, interior designers, and office managers often use test fit plans when considering commercial spaces. Architects or designers create them, and landlords are usually responsible for paying for them, although the financial responsibility can sometimes fall to the client. These plans should be unique for each prospective tenant.
Here are a few ways they can benefit you:
1. Test Fit Plans Show if the Space Will Work
Yours can reveal if a certain number of offices, or a specific layout for your medical office, will be possible within a given interior.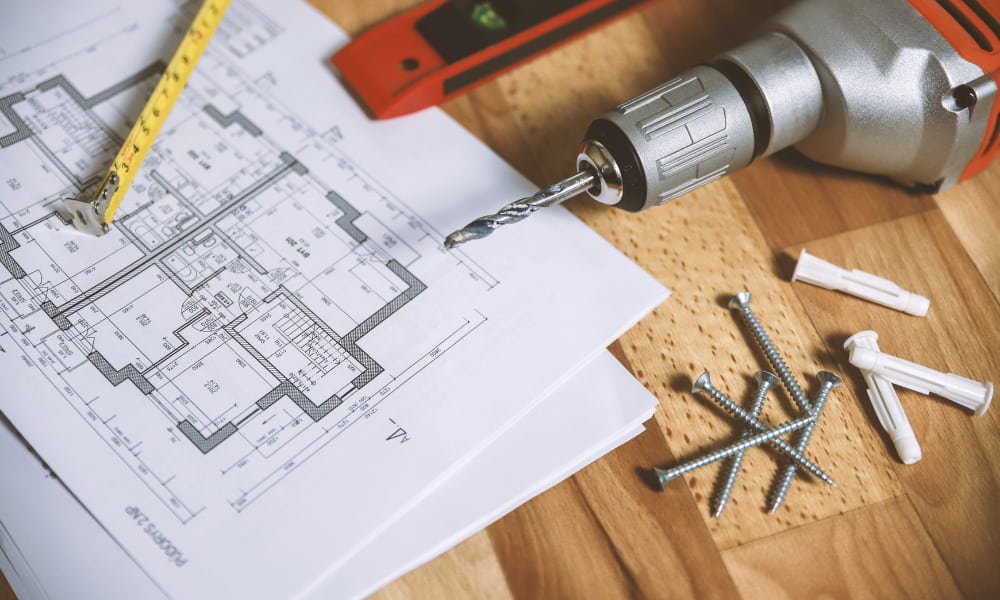 It may not answer all your questions about a particular space, since it's less detailed than other types of plans, but it will provide you with a visual you can use as a guide. 
2. They Show if Room Sizes Are Right
Let's say you need a conference room that can hold 40 people instead of 20. Or perhaps you need a common space that can comfortably fit your whole team. This plan can reveal if these prerequisites will work in a particular interior.
3. They're Fast
A test fit is typically less involved than a floor plan and takes less time to prepare. It may be your best option if you don't have a lot of time but need to know whether a space can accommodate your needs.
4. They Require Minimal Investment
Renderings can be costly, but test fit plans usually do not require a significant financial investment. They can be a low-cost way of examining how a designer can configure your requirements in an interior.
5. They Can Spark New Ideas
Test fits are created by architects or designers, but they allow various groups of people to react and respond to the suggested space plan. Commercial real estate professionals, as well as office teams, can give feedback or use them to conceptualize a space.
6. They Can Uncover Potential Problems
Having a plan drawn up can point to what might be potential issues down the road. You need 10 workstations for instance, but the plan shows them too close together. That might be a sign of a future space constraint.
A test fit can be a useful tool as you research your ideal workspace. Be sure to ask for one if a potential landlord doesn't automatically provide it.
Get the Perfect Medical Office Space in D.C.
Finding the right commercial space for your business is no small task, and a test fit is just one component of the process. Working with a professional can help make your search as efficient and cost-effective as possible.
The team of experts at The Genau Group will be with you every step of the way, from searching for a medical office space to negotiating the best lease terms for you and your business. Contact us today to discuss our full range of lease and project management services in Washington DC.