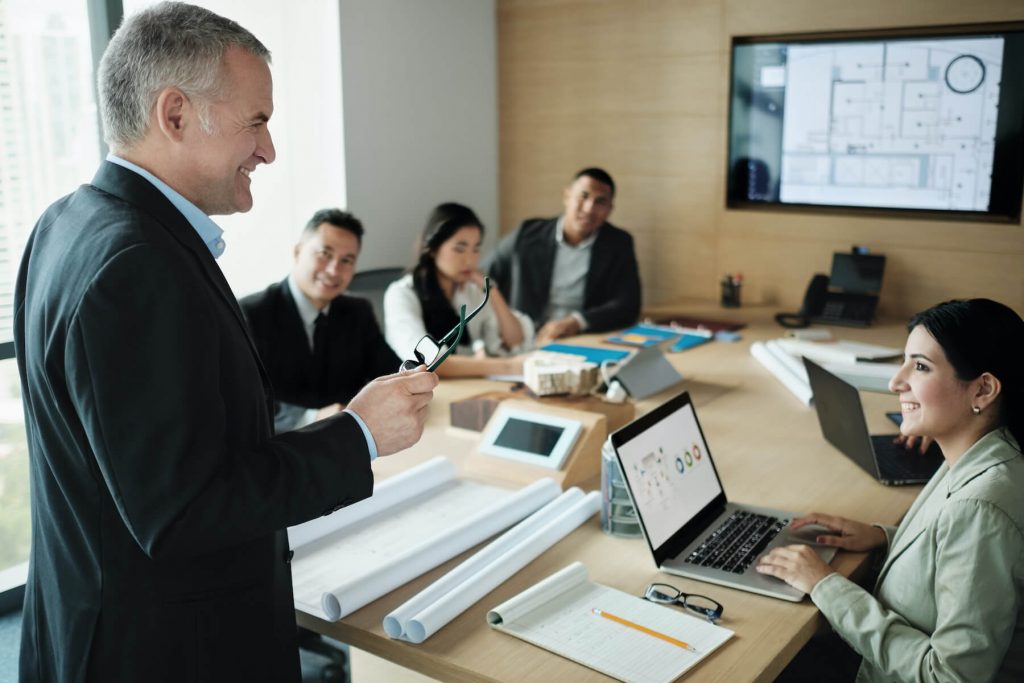 Our approach is methodical, deliberate, and thorough: We start by listening to our clients. We take the time to fully understand their business, their balance sheet, and their short and long term strategic plan, from both management and finance.
Once we have a complete understanding of our client and our client's needs, we will present a strategy. We will then survey and search the commercial real estate market. We will present all the options for our client's review. To simplify the process, we will make a short list of recommended options that may be best suited for our client's needs.
The Genau Group avoids conflicts of interest. We work only with a preferred book of long term clients who share the same core value system and moral framework. We will never work for a Landlord, a Property Manager, or a Building Owner interested in leasing space to our clients.
Understand
We start by listening to you and taking the time to fully understand their business, balance sheet, and long-term managerial and financial strategic plan.
Strategize
We present a strategy that will work with both your short-term and long-term needs.
Survey
We survey and search the commercial real estate market, gathering multiple options for your review.
Review
We present all options to you. To simplify the process, we make a short list of recommended options that may be best suited for your needs.
Every business is defined by its team. Our team is managed by real estate advisors with more than 100 years of collective real estate experience and knowledge. We are the only commercial real estate company in Washington DC in which the founding members were all born in Washington DC proper and have been here since birth. Additionally, we have backgrounds not just in real estate, but also in accounting and finance. We have been business consultants, business managers, public accountants, and independent auditors. Our backgrounds are in Business Administration and we hold advanced degrees to this end. Our client experiences range from start-up clients looking for small, short term space, to large, thirty-five-year-old international organizations with offices in more than 30 countries, and annual operating budgets exceeding fifty million dollars. No matter the size of the client, our client is always the Tenant – never the Landlord. And every Tenant deserves a great deal.
When you research the other commercial real estate companies, make sure you fully critique the management team's background and make sure the individuals who are assigned to you are properly qualified. Make sure you know what they studied in college and what they did to warrant their claim of business acumen.

We had five years left on our lease. We were paying far too much in rent. We were able to find a subtenant to take our lease. In parallel, we found a much better space to fit our needs and budget. The Genau Group was able to make both deals happen at the same time. Working with The Genau Group, we reduced our rent by more than 40% a month. Ultimately, we were much happier with our new space. We're saving approximately $120,000 a year now.
The Genau Group worked with us for more than a year to help us find our first office space. The Genau Group negotiated with a high end building on L Street in the Central Business District that usually commands $45.00 per square foot. We're only paying $20.00 per square foot and we even got the furniture and fixtures included. All said, we saved 56% on our first office lease. This allowed us to put our budget where we needed it most: developing our new business.
The Genau Group helped us find just what we were looking for. We negotiated for several spaces before we finally arrived at the right deal. We were able to negotiate a full-service lease including furniture. I first worked with this group several years ago when negotiating our prior office lease and they are the only group I approached when I had a renewed search. They are extremely professional and at the top of their game in this industry. We are very happy with their work and would highly recommend them in the future.
The Genau Group were a pleasure to work with. We received individualized attention from their team, a flexible schedule for site visits, timely responses, and meaningful advice. They really went to bat for us and fought for the best deal. We came away with a clear win. We'll be looking forward to working with their team for many years to come!
The Genau Group found us space in a high end building that usually trades for $42.00 per square foot. He was able to negotiate a two year deal for only $20.50 per square foot. We literally got a class "A" space for 50% off market.